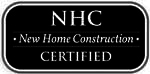 New Home Construction – Buyer Representative
This course is an elective for the ABR® (Accredited Buyer's Representative Designation) and also offers the New Home Construction – Buyer Representative Designation.
Solid increases in single-family starts, still historically low interest rates, and high buyer demand point to healthy sales of new-home construction.
This course offers an Agent the product and transaction knowledge needed in order to guide buyer-clients through the steps and processes for purchase, construction, and customization of a new home.
The Agent learns how to interact with new home builders and sales representatives to protect clients' interests while developing productive business relationships.
The agents also learn:
Where and how to find new home sales business
Understand how the development and new-home sales processes work and the type of services the buyer needs
To Appreciate the business of new homes from the perspective of the builder and sales representative
To describe the role and responsibilities of the buyer's representative when the buyer client pursues new-home construction
To explain how new homes are constructed from groundbreaking to walkthroughs, inspections, and closing
To help clients evaluate pros and cons of purchasing new homes versus existing homes
The Designation is achieved with successful completion of the course
This course and designation is developed and monitored by Real Estate BUYER'S AGENT Council, Inc. (REBAC).
Taresa Lutz grew up in a family of Custom home builders. Her dad was a home builder, as was her Dad's dad, and two of her uncles. She worked with her parents in the business as a teenager and young adult. She has a heart for New Home Construction and assisting home buyers through the process from start through closing and even beyond.