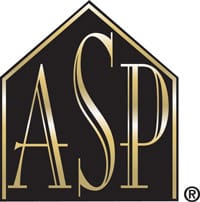 Accredited Staging Professional® – (ASP®)
Accredited ASP® Stagers are true Professionals trained under strict guidelines using proven Staging techniques developed for over 35 years by Barb Schwarz, The Creator of Home Staging®.
When you bring your home on the market and Stage® your house for sale always hire an ASP®. 
There is no governmental agency which regulates the Staging industry.   The Accredited Staging Professional® belongs to IAHSP which has a Code of Ethics which they are expected to follow to be able to be called an Accredited Staging Professional® and to remain a member of the IAHSP.  (International Association of Home Staging Professionals).
Accredited Staging Professionals®:
Have completed an intense 3-day Training about the Staging and the staging business
Must pass a detailed written examination
Agree to follow the ASP® Code of Ethics and the ASP® Consumer Foundation of Service Creed
Renew yearly to maintain their ASP® Designation and the guidelines therein and their membership with Stagedhomes.com
ASP's® are taught to:
Hold a Business License or RE License
Carry Staging or E and O Insurance
Hold a Sales Tax ID number as a Stager®
Have a commercial checking account for their Business
Continue their education by returning to additional ASP® Courses
Hold a current active membership in The International Association of Home Staging Professionals®
The ASP® Designation is the benchmark designation of the entire Home Staging Industry.  
For more info about the Accredited Staging Professional® designation see: https://stagedhomes.com/.
Taresa Lutz is an Accredited Staging Professional® and former owner of Stellar Staging Group.   Taresa is also a former member of the Houston Chapter of IAHSP and was active on the board as their Treasurer for 3 years..